Donation supports well-being of team members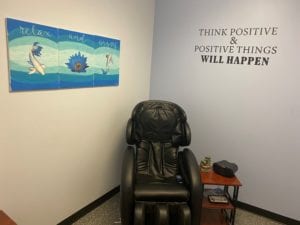 As a philanthropic partner of Children's Miracle Network Hospitals, Phi Mu members from the organization's more than 300 collegiate chapters have raised over $19 million since 1986 for children's hospitals nationwide. Phi Mu recently made an $8,031 gift to Children's Hospital of Richmond at VCU, which will be matched by Children's Hospital Foundation.
The donation will fund a room in CHoR's Wonder Tower where team members can decompress and recharge during their shifts. Named for Dr. Jean Watson, who has written extensively about how taking care of nurses' mental health translates into better healthcare for patients, the Watson Room will be located in the emergency department in CHoR's new facility. The room will be a technology-free zone and encourage relaxation through the room's calming colors, comfortable furnishings and peaceful environment.