Phi Mu, Rho Iota Is Making Miracles this Spring!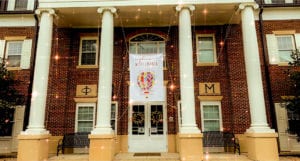 Phi Mu's Rho Iota chapter at the University of Kentucky is making miracles for Kentucky Children's Hospital! 
On April 12-17, 2021, this Children's Miracle Network Hospitals partner hosted Philanthropy Week — six days of creative activities and fundraising efforts. More than 250 sorority sisters worked together to raise over $14,000 for Kentucky Children's Hospital. 
Members hosted restaurant nights at Chipotle Mexican Grill and Moe's Southwest Grill, with a portion of the proceeds going directly to the hospital. They also sold baked goods at their sorority house, creating awareness of Children's Miracle Network Hospitals across campus. The sale of coupon books for businesses around Lexington added to the chapter's totals. 
The week culminated in Wifflemania, an annual wiffleball tournament held each year to raise money for Children's Miracle Network Hospitals.  This year the chapter hosted 18 teams, bringing together a total of 180 players from groups across campus. 
"Everyone was excited to participate and play for this remarkable cause," says Erin Craig, the chapter's philanthropy chair. "I was honored to have the opportunity to host such a wonderful event, and I am so excited to host it again in the fall." 
In addition to these events, chapter members conducted a social media fundraising campaign all week. Across their personal social media platforms, members spread the word about needs at Kentucky Children's Hospital. Through incremental peer-to-peer donations, members raised $10,428.24 solely online. 
Unexpected obstacles cancelled many annual in-person events last year, but Phi Mu, Rho Iota has risen to the challenge with creative efforts, such as virtual fundraisers. In 2020, they raised $19,684.25 – a 65% increase from the previous year.  
Thank you for your creativity and hard work! Every dollar raised will make a difference in the lives of children across Kentucky.